About Nanmen
Founded in 1968
Schoolyard:30,385 square meter
Faculty size:167
Student number:1423
Class number:50
Regular class:42
Special education:2 classes
Talented class:3 music classes
Talented class:3 sport talent class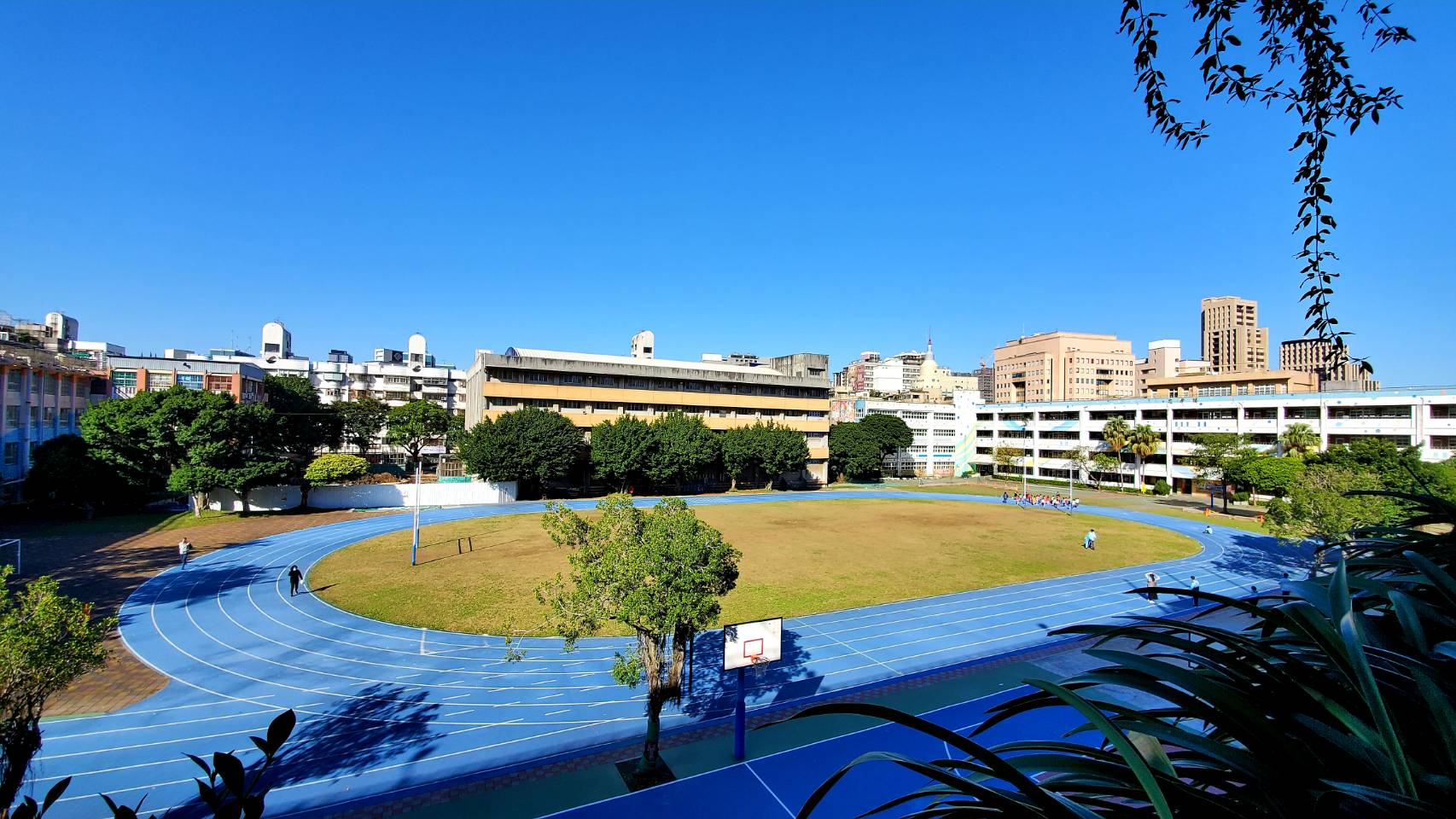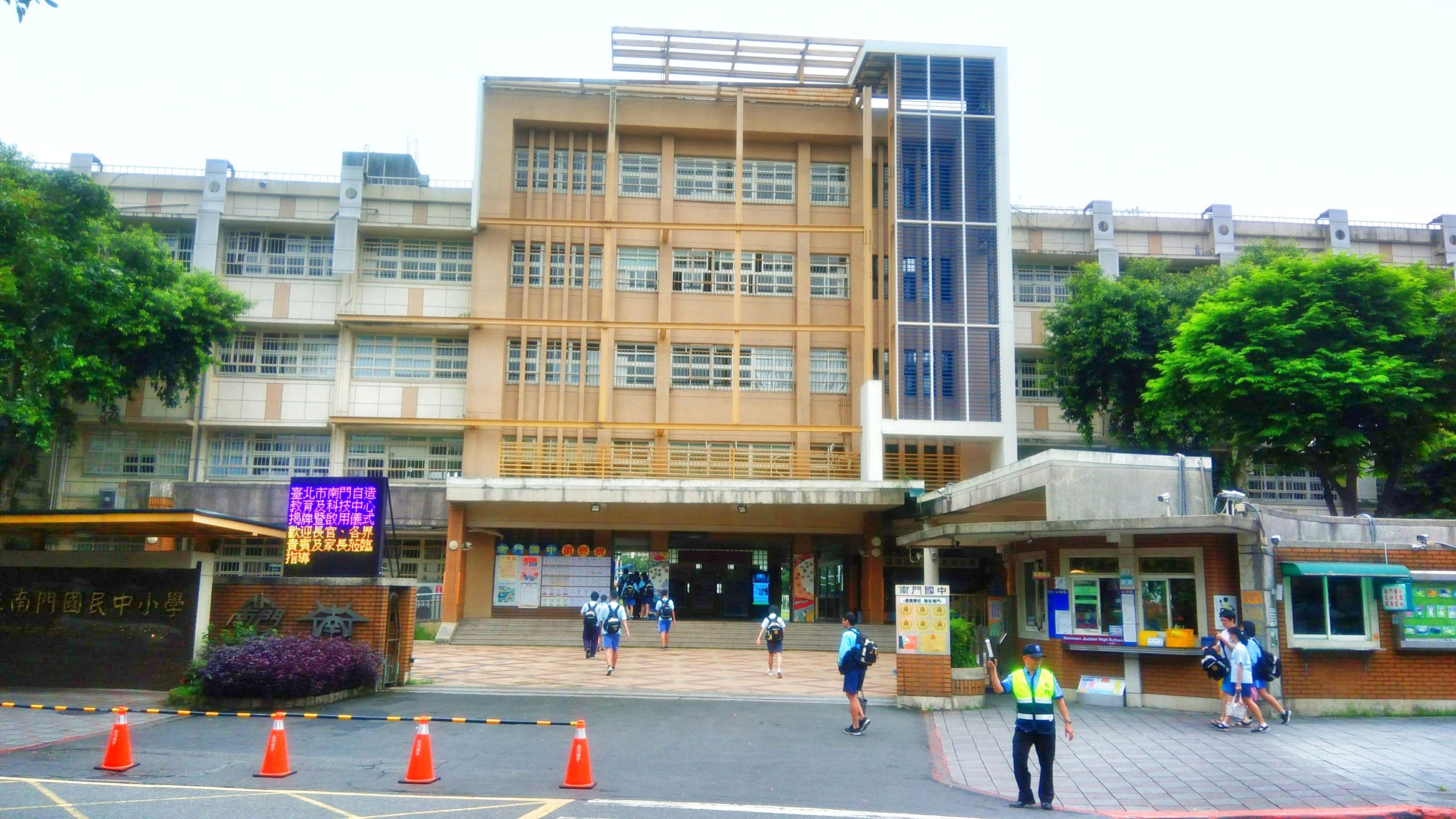 Vision of Nanmen
Outstanding Nanmen students:
Assist students assuming 12 characteristics that make them outstanding pupil.
12 characteristics:be good at sports, especially swimming、be diligent、show respect to other people、be industrious and thrifty、take good care of themselves、play some instrument、like sports、have courage to admit mistakes and mend ways、care about their families、be bountiful and charitable、have ability to use computers、speak second language like dialect or English.
Taipei municipal Nanmen Junior High School——–Foster good young fellows of Nanmen
To achieve the goal of ideal education, making every student to become a healthy and helpful citizen
Nanmen is the cradle of ideal education:
Teachers:Teachers are the guidance of students, offering students assistance not only in learning but also in living. Teachers help build student's characters with all their effort.
Students:Students are good young fellow carrying high quality in the new generation.
Parents:Parents are not only good friends but helpful resource to their own child as well as teachers at school.
Administration:Administration team is an effective organization.
School:School is the place good for learning.
Atmosphere:The friendly atmosphere makes the school comfy home.
Community:Every one has strong identification as one group to the community.
School superiority and characteristics:
Amenities in traffic are as well as surroundings near the school. Nanmen is located in Nan Hai district where academic is flourishing and educational resources are bountiful. You can get to Nanmen easily by bus or MRT.
Simplicity and modesty are spirit of Nanmen Junior High School. Personnel are nice and sincere. Students absorb knowledge in pure environment, aside by school rules and have good accommodation to daily schedule. Teachers have good relationship with parents of students.
The structure of faculty is firm. The average age of teachers in Nanmen is 37 years old. Teachers are dedicated to teaching and they are so experienced ones giving students counseling, guidance and assistance.
Students in Nanmen are innocent, active and have enthusiasm in learning.
The social status of students' parents in Nanmen is higher than in other schools. Support from parents of Nanmen students give us the chance to devote all our effort to proceed with high quality teaching activities as well as administration of school.
The school also emphasize on musical cultivation. There are at least 8 small-scale concerts every year performed by talented musical classes providing music program for all students to relish. It also offers great opportunities to instruct students the courtesy to respect performers, musical background and the knowing of various instruments.
Diversity of school clubs: There are 45 clubs offering substantial curriculum for students to attend, including aero phone club, martial art, tae kwon club, hand language, stamp-collecting club, etc….
Nanmen is remarkable for extra curriculum and outcomes of competition: In-school activities are deeply loved by our students, such as cheerleader contest, declamation contest, choral society contest, recorder competition, physical-challenging day and other sports tournament. Even, we were awarded the top prize by director general in many field like declamation, art, chorus, recorder contest, trace and field, basketball, volleyball and swimming.
Nanmen mental-disorder classes:
Students with extra assistance requirement are arranged in specific class and it's eligible to make rearrangement based on students' needs and the related low.
Special education— computer skill class
The computer skill class is arranged in small size with 8 to 12 students in each class to make sure every student can get full resource and proper training period. We invite professional trainers to give our students through instruction, making our students have confidence in themselves. Our efforts won golden opinions from many parents.
Nanmen Junior High School is multidimensional in many aspects. We maximize multi-intelligence, multi-capability and multi-development which meet every student's requirement in 21 century.
The ideal image of good young fellow of Nanmen:
I. Be health
Have good vision sight
Have high EQ
Think positively toward life
Keep in good shape
II. Be diligent in studying
Have perfect class attendance
Care for out-side reading and extracurricular activities
Be good at computer
III. Show respect to opposite sex
Be friendly to friends
Take part in class activities
IV. Cherish resources on earth
V. Abide by traffic rules and cherish life
Do not ride motorcycle without license
VI. Be good at swimming and other sports
7th grade students can swim for at least 25 meters
VII. Can play instrument and enjoy the musical concert held in school
VIII. Have courage to admit mistakes
No bad habit such as smoking, drug-addicting, stealing and ganging
IX. Share housework
Care to join family activities
X. Be bountiful and charitable
XI. Have ability to use computer and surf the net
Make good use of e-mail and net resources
XII. Can speak second language like dialect or English